Many injuries result in permanent damage, and lives are forever altered by the negligent actions of others …
Miami Personal Injury Attorneys in Miami-Dade with 25+ Years' Experience
Our law firm in Miami is comprised of a qualified group of attorneys who take a personal interest in each client's case. Working with our personal injury lawyers gives you the assistance of a professional who has the experience and the skill to obtain results.
Call (305) 771-0894 – Free Consultation
Testimonials
Maria Rubio is a thoughtful, knowledgeable and zealous advocate for her clients. She always goes above and beyond for her clients. She is professional and is a role model for all up and coming litigation attorneys.
Legal Representation for Injury & Accident Cases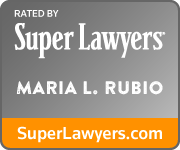 When a person is involved in an accident of any type, they often suffer injuries ranging from minor to severe. Injuries from minor scrapes and bruises to brain injury and spinal cord injury are all commonly seen in accident cases. If your accident was caused due to the negligence or reckless acts of another person, you should immediately talk to a personal injury lawyer from the Law Office of Maria L. Rubio.
At our law firm, the legal team has over 25 years of experience in handling personal injury cases throughout Florida. As experienced trial attorneys, we understand that there will be no substitute in your case for trial experience. An attorney can have many skills, qualities and attributes to give to your case, but without the ability to successfully negotiate a settlement on your behalf the skills are essentially useless. Talk to our law firm as soon as possible if you have suffered injuries in any type of accident.
Talk to our Personal Injury Lawyer Today
At our firm, we handle virtually all types of accident and injury cases, including car accidents, motorcycle accidents, truck accidents, bus accidents, train accidents, bicycle accidents, pedestrian accidents and all other motor vehicle accidents. As long as your injuries were the direct result of an irresponsible party or company, our law firm will fight aggressively and tirelessly until we know that you have obtained every penny that you are entitled to. To learn more about the cases we handle and to retain the services of our Broward County personal injury lawyer, do not hesitate to call us today. We offer a free and confidential consultation to all potential clients in the Broward County community.
Our Law Firm's Areas of Practice in Miami
We take a strong personal interest in each case!
We address every case with unmatched dedication and a strong work ethic that is present throughout all steps of the legal process here in Miami...
Personal Injury Law Firm in Miami
After an accident, there is often shock, confusion and uncertainty regarding the future. Many people are unsure how to go about seeking compensation or how to address the legal matters in their case on their own. Medical costs such as emergency services, surgeries, hospital costs and other necessary treatments quickly range into the tens of thousands of dollars or even higher.